24-Hour Home Care Tips to Manage Emphysema
If you are caring for an aging adult, you may have heard of emphysema, which can impact many seniors. This is a serious disease that can cause damage to the air sacs in the lungs. This damage can make it impeccably hard to breathe and manage. However, there are certain things you can help your seniors with to ensure they manage this condition. Remember that even with the help of 24-hour home care, your loved one should still be talking to a doctor, especially one who specializes in older adults. Here are some tips that can help keep your loved ones emphysema managed while aging in place.
Air Quality
Depending on where your senior lives, they should focus on breathing less polluted air. Breathing in too much air pollution can negatively impact anyone's lungs. When your senior continues to breathe bad air, it can cause long-term inflammation, leading to emphysema. So how do you avoid pollution? First, it's important to monitor the air quality and avoid going outside when it is awful, especially in the cities. Second, you can install an air filter in your loved one's house to help keep pollution inside the home at bay. 24-hour home care may also help keep a senior's home clean, which will help reduce dust which may impact a senior's emphysema.
Stop Smoking
Even if your loved one doesn't smoke, they should avoid those who smoke. Cigarettes are not good for the body or for anyone to be around. Any type of smoking or second-hand smoke can seriously impact lung health. This should be a huge focus in your senior's daily life, but smoking can be a hard habit to quit. There are tons of resources out there if your senior needs help to quit smoking.
Add Antioxidants To The Diet
Your diet has a huge part to do with how you feel and how diseases are managed. If your senior loved one isn't getting enough antioxidants, it can impact how breathless they feel and how well they handle their emphysema. Antioxidants may help improve cell function and dispose of anything that can negatively impact the lungs.
Keep Exercising
You may think that exercise is the last thing your seniors should do when they feel like they can't breathe. The truth is, they should keep active no matter what. Walking around the neighborhood can help manage emphysema and boost lung and heart health which is important for all seniors. Gentle exercises can help improve how well a senior's lungs work and will allow them to breathe better in the future. However, if your senior loved one is struggling during a workout, they should find one that they are able to do without pain or discomfort. 24-hour home care assistance can provide stability and safety for your loved one to work out while being safe.
If you or an aging loved one are considering 24-Hour Home Care in Mooresville, NC, contact the caring professionals at TenderHearted Home Care today. Call us at (704) 612-4132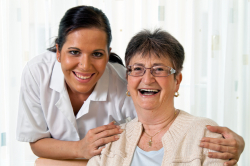 Latest posts by TenderHearted Home Care, LLC
(see all)