5 Interesting Facts About Caregivers
The day to day tasks of being a caregiver may seem routine when you're the one doing them. Every day can feel the same. You help your older family member get up and start their day, you cook meals for them, you clean up the house, and you help them to bed at night. The next day, you do all those same things again. However, what you do is important and the facts surrounding caregivers are a lot more interesting than you may think. Below are 5 facts about caregivers that show how interesting and awesome they are.
#1: There Are Millions of Caregivers in the United States Alone
Does being a caregiver ever make you feel alone? Well, you're not! In fact, according to AARP, there are currently over 40 million people in the United States who are serving as family caregivers. Most of them are helping their elderly parents or grandparents. What's more, the number of senior citizens in the country is rising because the Baby Boomer generation is hitting their golden years. That means that the number of caregivers will also be going up.
#2: Caregivers Can Be Any Age
Statistics show that the average age of people who are caregivers is between 45 and 64. In fact, about 17 percent of people in that age bracket are caregivers. However, there are now 10 million millennials serving as caregivers.
#3: Both Men and Women are Caregivers
It's true that most caregivers are women. According to research, 65 percent of caregivers are women. Unfortunately, because fewer men are caregivers, they are often overlooked. However, they experience the same emotional ups and downs and difficulties that female caregivers do, so they also need support.
#4: Caregivers Spend a Great Deal of Time on Care-Related Tasks
Have you ever added up the amount of time you spend helping your aging relative? According to the Caregiver Alliance, here's how the average caregiver spends their time:
• 13 days per month on shopping, cooking, cleaning, laundry, transportation, and giving medications.
• 6 days per month on personal care, like feeding, dressing, and bathing.
• 13 hours on learning about medical conditions, scheduling appointments, and helping with finances.
#5: Caregivers Find the Role Rewarding
Although being a caregiver is a tough job, most people find it rewarding. In fact, research conducted by Pew Research shows that 88 percent of caregivers find the role more rewarding than stressful. They feel "generally comfortable" about the care they are giving their family members.
If you or an aging loved one are considering a Caregiver in Cleveland, NC, contact the caring professionals at TenderHearted Home Care today. Call us at (704) 207-0265.
Sources
https://www.caregiver.org/caregiver-statistics-demographics

https://www.aarp.org/caregiving/home-care/info-2018/millennial-caregivers-work-life.html
https://www.aarp.org/caregiving/life-balance/info-2017/hidden-male-caregiver.html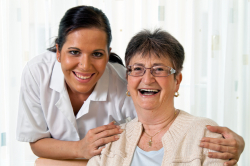 Latest posts by TenderHearted Home Care, LLC
(see all)