Celebrating TenderHearted Nurses
Caregiver in Kannapolis NC
While TenderHearted Home Care (THHC) is a non-medical home care agency, THHC caregivers are supervised by 2 excellent nurses – Traci Collins and Allison McBride. Renee and the caregivers of THHC wish to recognize and thank both nurses for their dedication and love they show the caregivers and clients. Words and gifts aren't sufficient thanks for their service to THHC!
Traci Collins, RN, BSN – I joined TenderHearted with 24 years of nursing experience. I have experience in hospital, home health, and most currently school nursing. I received my degree from The University of North Carolina at Charlotte. I knew from an early age that I wanted to be a nurse. I have a strong desire and great compassion to help others.
You will find out that I am very task and detail oriented and put my heart into everything I do. It gives me great joy to be able to use my spiritual gift of giving by giving of my time and talents to others. My goal is to somehow improve the well-being of every person I come in contact with no matter what setting.
In my free time, I enjoy spending time with my family. I love trips to the beach and attending Clemson football games. I feel truly blessed by God and hope that others are touched by my service.
Allison McBride, LPN – Hi, I am Allison McBride.  I'm so excited to join this team and be a part of their excellent mission in service to the elderly community.
I started my career as a Certified Nursing Assistant and worked in that capacity for several years.  Wanting to advance in my career, I decided to return to school to pursue a License Practical Nurse degree.  Although I love my LPN job and the great rewards it offers, I felt my calling was not yet fulfilled.   To support my lifelong learning efforts, I resumed my education by enrolling in the Registered Nursing program.
I believe that compassion for all is the key to nursing success.  Helping others and having the adoration of all my clients has been the most satisfying experience in my career thus far.
Thank you Traci and Allison!!
TenderHearted Home Care (THHC) is a non-medical, in-home care agency located in Salisbury. THHC provides services to the elderly and disabled/handicapped through companion/sitters (non-hands-on care), Personal Care Attendants (limited physical assistance) and CNAs (extensive physical assistance). 
THHC can offer respite to family caregivers, extend and enhance safely living at home, or bring one-on-one personal care to the senior living in a group facility. 
While THHC cannot replace the love and support of family, our caregivers provide helpful services needed to brighten the day, lighten the workload and ensure peace of mind.
If you or an aging loved one are considering hiring a caregiver contact the caring professionals at TenderHearted Home Care today. Call us at (704) 612-4132.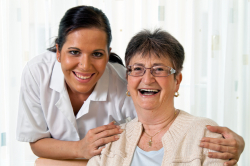 Latest posts by TenderHearted Home Care, LLC
(see all)