Caregiving from Afar – How to Help Your Elderly Loved One?
Do you live an hour or more from your elderly loved one? If so, this is called caregiving from afar or caregiving from a distance. There are many challenges that you might face when trying to take care of your elderly loved one from further away. However, it is important to know that this is possible. There are many family caregivers who take care of their senior citizen loved ones from afar. 
Hopefully, the information mentioned below can help you to care for your elderly loved one from this point forward. 
Getting Started
Are you just now needing to take care of your elderly loved one? If so, there are some tips that can help you to get started. Some of the things that you should make sure are done include:
Making an emergency contact list for them
Getting their paperwork in order
Hiring in-home care providers
Making sure they have an appointment book set up
If you can do these basic things, your elderly loved one's life will go much smoother, healthier, and better overall. 
Other Tips for Long-Distance Caregiving
In addition to the caregiving tips noted above, there are some other tips for long-distance caregiving, as well. Some of these tips include:
Visit your elderly loved one when you can
Have transportation set up for your elderly loved one
Be sure daily tasks are assigned to people who will be caring from close
Encourage your elderly loved one to stay independent as much as possible
These are some other things that can help your elderly loved one to have a better life overall. If you need some help managing these things, don't hesitate to hire in-home care providers starting today. 
Signs Your Elderly Loved One Needs More Help
How do you know if your elderly loved one needs more help than they are receiving now, especially when you live further away? Some of the signs that senior citizens may need more help include:
Looking disheveled during video chats
Not taking a shower as often as they should
Not calling you back when they normally would
Not keeping healthy foods stocked in their house
Unable to do certain household tasks
It is important that you do your best to keep an eye on these changes. If needed, you can hire in-home care providers and ask them to check up on these things. Then, the home care providers can let you know what they see going on. 
Conclusion
Are you caregiving for your elderly loved one from afar? If so, you might already be wondering how you are going to make sure they are alright at all times. The tips that are noted here today are a good start for ensuring your elderly loved one is well taken care of. If you follow these tips, it can help to improve your elderly loved one's quality of life, too. 
If you or an aging loved one are considering In-Home Care in Salisbury, NC, contact the caring professionals at TenderHearted Home Care today. Call us at (704) 612-4132
Sources
https://www.nia.nih.gov/health/caregiving/long-distance-caregiving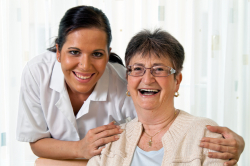 Latest posts by TenderHearted Home Care, LLC
(see all)