Four Mediterranean Dishes Seniors Will Love
Finding a well-rounded diet is crucial for seniors who wish to live longer and healthier. Nutrition is one of the main areas in a senior's lifestyle that home care assistance can help with. They are not only the best companions, but they can help provide nutritious meals and ensure the senior is getting enough fluids every day. These two things will just be one of many things in the home care assistance care plan.
If your older parent does not yet have home care assistance, it's time to start looking for one. You may not be able to provide as much support as a senior needs, and that is okay. Having help with your loved ones can be one of the biggest advantages and help promote healthier living.
Eating Mediterranean food and a Mediterranean diet can be so good because it is full of fresh vegetables, healthy fats, and good protein. It can be one of the best diets to stick to, and home care assistance can help create healthy and delicious meals for seniors. If you have been looking for easy and healthy recipes to make for your loved one or something you can recommend to the home care assistance, check out these recipes.
Healthy Mediterranean Dishes
The Mediterranean diet is linked to a lower risk of heart disease, which can be crucial for seniors with heart problems.
This is also a diet that doesn't have to be super strict, making it easy for home care assistance to work around. Whenever a senior decides to make lifestyle changes in diets, they should always consult a doctor. Caregivers can help manage meal plans, but they cannot make a medical diagnosis for a senior. If the doctor gives the okay for this diet, that is when a caregiver should start creating these meals to help prep for the week.
Fattoush Salad
Built with crunchy pita chips, pomegranate molasses, and filled to the brink with veggies, this salad could not be more delicious. One of the best things about this Mediterranean dish is that it is super easy to make at the beginning of the week and use for multiple meals. This makes a good mason jar salad which is excellent for up to five days.
Lemon Shrimp Pasta
When people think of diets they tend to think of something super restrictive where they can't eat the carbs. However, this doesn't mean someone can't enjoy pasta. Home care assistance can help pick up whole wheat or multigrain noodles to make this dish.
Tabbouleh
This is made with super fresh ingredients that make something noteworthy. It also is a dish that can be made in advance for mid-week lunches. It is filled with red onion, cucumber, tomato, parsley, and bulger. This is the perfect thing to snack on with pita bread.
Chicken Tagine With Apricots and Almonds
Finding something warm, healthy, and hearty has never been easier. Any kind of tagines can be sweet, salty, and filled with protein that will help keep a senior full throughout the night. This meal is a sure way to end night time snacking.
If you or an aging loved one are considering home care assistance in Rockwell, NC, contact the caring professionals at TenderHearted Home Care today. Call us at (704) 612-4132
Sources:
Mediterranean diet linked with lower risk of heart disease among young U.S. workers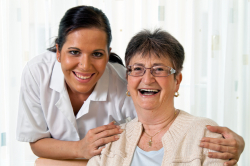 Latest posts by TenderHearted Home Care, LLC
(see all)