Heart Conditions Might Increase Your Senior's Fall Risk
Your senior's heart health matters a lot, both in terms of her overall well-being and in terms of her ability to avoid a fall at home. Falls are a huge health issue in and of themselves, so addressing anything that increases your senior's fall risk is absolutely crucial.
Symptoms and Side Effects of Heart Issues Can Lead to Falls
Heart disease can leave your senior feeling wobbly on her feet, especially if she's already experiencing mobility issues. Side effects can also include issues like fatigue, lightheadedness, and fainting spells. If your senior is at risk for having a stroke, that increases her fall risk even more. Talk to your senior's doctor about how you can help your elderly family member to reduce these risk factors.
Some Medications May Make a Fall More Likely
Your senior may be taking one or more medications to help her with her heart conditions. These medications may reduce the risk of a heart attack, may help to lower her blood pressure, and more, but they may also have side effects that work against her in terms of falling. Some of these medications may contribute to fatigue, can make your senior dizzy, and could cause her to feel nauseated. If she's overwhelmed by side effects, work with her doctor to get the dosage adjusted or consider changing the medication.
Keep an Eye on Your Senior's Numbers and Goals
Something else to discuss with your senior's doctor are her cardiovascular goals and test results. Knowing what your senior's goals are and where she is can help you to move her closer to that goal. Your senior's doctor can help to outline a plan that will help.
Help Her to Feel More Independent and Confident at Home
If your elderly family member is worried about falling and doesn't feel confident that she's okay, that is more likely to become a self-fulfilling prophecy for her. It's important that she feels confident and independent when she's at home. That doesn't mean that she doesn't have help, in fact having help from elder care providers can go a long way toward increasing both your senior's confidence and her independence.
Addressing the factors of your senior's heart disease that might contribute to a fall could be a key part of your elderly family member's fall prevention plan. Work with her doctor to adjust this plan as needed to accommodate any changes to her overall health.
If you or an aging loved one are considering Elder Care in Thomasville, NC, contact the caring professionals at TenderHearted Home Care today. Call us at (704) 612-4132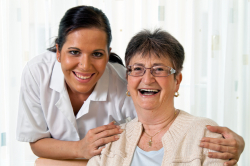 Latest posts by TenderHearted Home Care, LLC
(see all)