TenderHearted Home Care, LLC Honored Among Top Home Care Agencies in the Nation
Home Care Salisbury NC
TenderHearted Home Care, LLC Honored Among Top Home Care Agencies in the Nation — Named "Caring Star of 2017" for Senior Care Service Excellence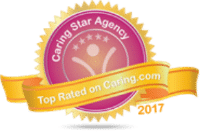 Positive Consumer Ratings Led to This Industry-Leading Distinction from Caring.com
Salisbury, NC 11/09/2016 — TenderHearted Home Care, LLC is pleased to announce it has been selected as a "Caring Star of 2017" for in-home care service excellence. In ratings and reviews from family caregivers and cognitively healthy older adults, TenderHearted Home Care earned a 5-star consumer rating (the highest possible score) within the last year, while also having a high volume of positive reviews and meeting other qualifying criteria for this national honor. TenderHearted Home Care is the only Caring Star 2017 agency in Rowan County, 1 of only 3 Caring Stars agencies in North Carolina, and overall TenderHearted Home Care is among 390 Caring Stars senior care providers across the nation.
"We strive daily to provide the highest quality in-home care for our clients, and this award helps validate our delivery on that promise," said Renee Gray, Owner and Agency Director of TenderHearted Home Care. "On behalf of our agency's staff and leadership, thank you to those who shared positive feedback about the services we offer, and to Caring.com for recognizing us as a Caring Star of 2017.
"It's an honor and privilege to serve families just as we would serve our very own. As the owner, I am involved in each case and most usually do the placement of the carefully screened care-pro. We address the specific needs and adapt as desired by the family to make for the best outcomes for all involved. Our nurses are top notch and maintain vigilant oversight of the care provided. TenderHearted Home Care provides for ongoing training in order to give the most excellent and tenderhearted care possible!"
Americans are increasingly seeking insights provided by online reviews to help guide important senior care decisions for aging or ailing loved ones. In multiple Caring.com research studies, the majority of family caregivers have indicated that they turn to the Internet and consumer reviews when researching home care agencies, and have relied on these perspectives more so than in-person recommendations from geriatric professionals or medical personnel. The Caring Stars annual list helps consumers reliably narrow senior care service options for their loved ones to the most-acclaimed providers – particularly as they gather for the holidays and discover increased or urgent senior care needs.
"Congratulations to TenderHearted Home Care for achieving this award after earning accolades on Caring.com from clients and their loved ones," said Karen Cassel, Caring.com CEO. "This important milestone speaks volumes about the positive difference TenderHearted Home Care is making in serving older adults, and we celebrate their accomplishment."
Some of the positive feedback that led to TenderHearted Home Care being a Caring Star of 2017 includes:
• "All the Care-Pros were God's angels in my time of need."
• "It is really nice to be able to take care of my family and not have to worry about my mom and her safety."
• "This is an awesome company – You will have peace of mind that your loved ones are being cared for in a superior manner."
Read the full text of these reviews and others on Caring.com: https://www.caring.com/local/in-home-care-in-salisbury-north-carolina/tenderhearted-home-care To learn more about the Caring Stars program and view the complete winner list, please visit: https://www.caring.com/bestseniorliving. Contact TenderHearted Home Care at 704-612-4132 or www.TenderHeartedHomeCare.com.
About TenderHearted Home Care, LLC
TenderHearted Home Care began as a germ of an idea in the summer of 2010. Through Renee's (TenderHearted owner) work at the hospital, she saw an unfilled need in the community for caring people to help seniors at home. After much research, Renee decided to form an independent home care agency rather than join a franchise. Renee was inspired to name the agency "TenderHearted" based on the bible passage Ephesians 4:32 (ESV), "Be kind to one another, tenderhearted…" and knew that verse was how she wanted the staff of the company to act towards others.
About Caring.com
With three million unique visitors to its website monthly, Caring.com is a leading senior care resource for family caregivers seeking information and support as they care for aging parents, spouses, and other loved ones. A Bankrate company headquartered in San Mateo, CA, Caring.com provides helpful caregiving content, online support groups, and a comprehensive Senior Care Directory for the United States, with 125,000 consumer ratings and reviews and a toll-free senior living referral line at (800) 325-8591. Connect with Caring.com on Facebook, Twitter, Google+, Pinterest, LinkedIn, and/or YouTube.
If you or an aging loved one are considering 

Home Care Services in Salisbury NC

, please contact the caring staff at Tender Hearted Home Care today. (704) 612-4132.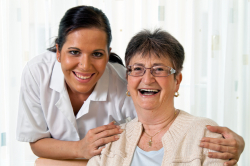 Latest posts by TenderHearted Home Care, LLC
(see all)