Leadership Rowan 2016-2017 – Criminal Justice/Law Enforcement Focus
Home Care Services Salisbury NC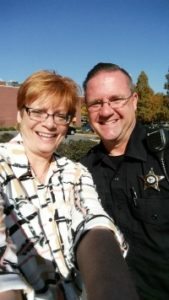 I have the privilege of being part of the Leadership Rowan class of 2016-17. Each month we focus on an area of the community to better understand it and to see our part in the big picture of community.
The month of November focused on our Criminal Justice and law enforcement entities. As part of our homework, I had the honor to do a "ride-along" with sheriff deputy Donnie Wagoner. I rode in the cruiser for his patrol assignments of doing residence evictions.
I learned a lot about the eviction process and witnessed an easy one-the residents had already vacated the house and we just did a walk through and posted instructions for them if they needed to return to get any other items. The next eviction was not so easy as the tenant did not believe they should have to vacate-so were not prepared and we had to watch as they stormed about. Things calmed down as the officer was very understanding, but has to maintain a neutral position in this process. We remained patient and gave them a good 2 hours to completely vacate the premises.
The Leadership Rowan class meets for a full day as well and we got to tour the local high rise prison. We heard from a panel of 4 inmates what prison life is like. They shared their stories and requested of us to encourage people to volunteer their time in a prison as it means so much to them! We also met at the Sheriff's office to hear from a panel including Sheriff Auten, Salisbury Police Chief Jerry Stokes, Rockwell Police Chief Hugh Bost, and E Spencer Police Chief Sharon Hovis. Sheriff Auten shared a major concern in that the jail facilities get overcrowded faster than plans can be made to enlarge or build new ones.
We also had a presentation about gangs in Rowan County and the drug epidemic. We learned that meth labs are easily made and very dangerous. Our law enforcement and SWAT team is doing a great job in monitoring criminal activity and reacting to it for our protection and safety.
We next traveled to the SWAT grounds to see a demonstration and also meet the canine officer and learn about the job of the canine team. The guns they fired were extremely LOUD! And real bullets!
It was truly an eye opening experience to see what situations an officer can be put into and the risks that they take to keep the peace in our community. They are certainly to be honored and respected for their service and sacrifices.
If you or an aging loved one are considering 

Home Care Services in Salisbury NC

, please contact the caring staff at Tender Hearted Home Care today. (704) 612-4132.
Latest posts by Renee Gray
(see all)