Keeping Your Senior Healthy on Thanksgiving
Thanksgiving is a lovely occasion when friends and family get together to celebrate all they are thankful for with a tasty feast. Thanksgiving feasts, on the other hand, have the potential to offer a lot of unhealthy foods and a lot of extra calories. Seniors who need as much nourishment as possible sometimes overlook the more healthful foods offered on Thanksgiving.
Of course, older people should not be denied all of the delectable sweets associated with a typical Thanksgiving lunch. To balance it all out, family caregivers and home care providers who assist elders with meal planning and preparation might encourage them toward more healthy recipes. Home care can go grocery shopping for Thanksgiving meals and arrange nutritional sides to go with the turkey as a main course. Here are some things they may add to the Thanksgiving meal prep list. 
They May Add In Green Beans
Green beans are rich in vitamins and fiber and make a tasty side dish. They may be grilled, steamed, or mixed into a salad, particularly if made fresh rather than tinned. Green beans are also an excellent vehicle for garnishes such as roasted almonds and sesame seeds.
Seniors Should Snack on Sweet Potatoes
Sweet potatoes are one of the most nutrient-dense vegetables. Carotenoids, which give them their wonderful orange color, help with eyesight. They also have antioxidants and anti-inflammatory properties. Instead of candied meals with much too much sugar, elder care professionals may roast cubes of sweet potatoes and sprinkle them with butter and mild maple syrup.
Go For Organic Cranberries
Cranberries have so many health advantages that seniors should consume them after Thanksgiving. Elderly care providers may create cranberry sauce with fresh cranberries that keeps all the vitamins while minimizing the amount of sugar needed. Dark red cranberries provide the highest vitamin C and antioxidants, and they've been shown to reduce the incidence of urinary tract infections.
Adding In Pumpkin
Many pumpkin meals are quite healthy if aged care providers avoid the urge to blend pumpkin with a lot of sugar. Seniors may obtain wonderful flavor and high-density nutrients from classic pumpkin pie, pumpkin muffins, or pumpkin bread. Elder care professionals should keep an eye out for fat and sugar in such meals, but the mix of whole grain and pureed pumpkin makes it suitable for seniors.
Salmon for Seniors
If your senior hates turkey, there are so many other healthy proteins to choose from. One of them is salmon! This is a great way to get in protein, healthy fats, and a lot of vitamins a senior needs. This is also something that can be baked easier than an entire turkey and may be something better for a senior living on their own who won't have guests around. 
When seniors eat healthily, it is simpler to make smart food choices even amid the sumptuous offerings of Thanksgiving and the holidays. Family caregivers and aged care providers greatly influence what sort of food an aging adult eats on Thanksgiving, so they may as well encourage the senior toward healthful selections.
If you or an aging loved one are considering Home Care in Kannapolis, NC, contact the caring professionals at TenderHearted Home Care today. Call us at (704) 612-4132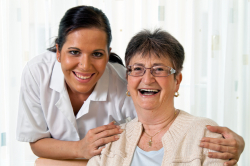 Latest posts by TenderHearted Home Care, LLC
(see all)