Senior Home Care Tips to Protect Your Mom From Cold and Flu
While winter is starting to shift towards spring, it's not uncommon to find yourself coming into contact with someone who has a late-season cold or flu. What if you contract a virus from someone else? The most important thing as a family caregiver is to stay home and avoid passing it to your mom, or hire a senior home care provider to step in when you're sick.
Make Sure She's Vaccinated
If your mom hasn't gotten a COVID booster or the original series of vaccinations, make sure she has them. She may worry about it being a new vaccine, but people who get it and build up some immunity have fewer complications or troubling symptoms.
The flu shot is another vaccination she needs to get if she hasn't already. If she's 65 or older, she also qualifies for the pneumonia vaccine. Finally, if she hasn't had the shingles vaccine, she should get those two shots, too.
While it's never fun getting a shot, it's better than ending up in the hospital with severe symptoms of a disease like the flu, shingles, COVID, or pneumonia. She can make it easier on herself by drinking plenty of water on the day she gets her vaccinations and taking ibuprofen to help prevent post-vaccination pain and injection-site swelling.
Wash Hands Often
Don't let your guard down. When you're at home, you may not be as cautious about constantly washing your hands. You need to keep doing it to kill viruses and stop their spread on surfaces.
If you are contagious and don't realize it yet. Things you touch that your mom touches could lead to her becoming sick, too.
Sanitize Surfaces
In addition to washing hands, make sure you're taking time to sanitize surfaces. A water and bleach mixture is an effective option for killing germs on door knobs, light switches, cupboard and appliance handles, and faucet controls. Use a sanitizing spray on remotes, phones, and computer keyboards.
Keep Groceries Stocked Up
Make sure there is a stock of necessities so that if you are sick, you don't have to rush out. Keep your mom supplied with essentials like toilet paper, dish soap, laundry detergent, milk, tea/coffee, fruit, and vegetables.
It helps to have some quick meals that your mom can heat on her own. A single serving of chicken noodle soup is one idea you can keep in the freezer. You could also make individual pot pies in muffin tins and have those in the freezer and ready to microwave or bake.
Stay Home When You're Sick
If you're sick, stay home. You may feel that you have to be there to help her out, but you're not doing her any favors if you get her sick. Arrange senior home care provider for respite care services. Senior home care providers can help your mom while you recuperate. Call an advisor to learn more about respite care services.
If you or an aging loved one are considering Senior Home Care in Kannapolis, NC, contact the caring professionals at TenderHearted Home Care today. Call us at (704) 612-4132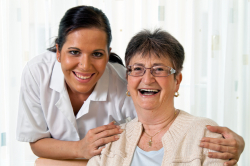 Latest posts by TenderHearted Home Care, LLC
(see all)