The Benefits Of Gardening For Seniors
April is National Lawn and Garden Month and it's the perfect time to see if your senior loved one has any interest in gardening this year. Gardening is a fantastic activity for seniors. There are many health benefits that come from being outside and being active. And it's an activity that can keep seniors busy all year long. In the spring and summer and even into the fall seniors can tend to their gardens and in the winter they can plan what plants and flowers they want to grow in the upcoming spring and summer. Many health professionals recommend gardening as a healthy activity for seniors. A few of the benefits of gardening for seniors are:
Getting Outdoors
Being outdoors has big benefits for seniors. Seniors need essential vitamins like vitamin K which can only be gotten from sunlight.  After spending days and weeks indoors because of the cold and snow in the winter getting out into the sunlight in the spring and summer can really boost seniors health and happiness. Some of the tasks associated with gardening like lifting soil or digging in the dirt may be tough for some seniors who have limited mobility, but senior home care can be a big help with tasks like shopping, carrying large bags of soil, and other gardening tasks. 
Being Active But Not Too Active
Activity is essential for good health for everyone, but it's especially important for seniors.  In fact many seniors don't get as much as exercise as they should get. But for some seniors strenuous activity is too much because they have physical challenges like mobility issues or they are very out of shape. Gardening is enough activity to count as a light workout but it's not so physical that it will be difficult for someone who isn't used to physical activity. 
Nurturing Plants Is Good For The Mind And Body
Gardening helps fight off mental health conditions as well as physical health conditions. Seniors that suffer from depression may find it easier to manage their symptoms when they spend time outdoor regularly. Being outdoors in the sun and fresh air while digging in the dirt and coaxing new plants to grow is a wonderful way for seniors to stay connected to the world and realize how precious life is. 
Can Reduce the Risk of Dementia
According to one study just gardening for a few hours a day can reduce the risk of dementia by up to 36%. That's a great benefit for just spending some time outdoor soaking up the sun. Family members of seniors may want to join their senior loved ones in the garden for a few hours during the week to lower their risk of developing Alzheimer's or dementia. Spending quality time with a senior loved one outdoors sounds like a fantastic way to spend an afternoon. Let senior home care take care of household tasks so that you and your senior loved one can spend time together in the garden. 
If you or an aging loved one are considering Senior Home Care in Salisbury, NC, contact the caring professionals at TenderHearted Home Care today. Call us at (704) 612-4132
Source:
https://pubmed.ncbi.nlm.nih.gov/16411871/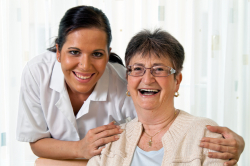 Latest posts by TenderHearted Home Care, LLC
(see all)