The Best Ways To Protect Seniors From Fraud
Elder fraud or scams that target seniors are a big problem. Every year millions of seniors fall victim to scams that end up costing them thousands of dollars, or even their entire life savings. Protecting seniors from fraud and scams is tough because scammers are constantly finding new ways to target seniors and get their money. There are some things that you can do to help protect your senior loved one from scams like:
Get Rid Of The Landline
Many seniors are hesitant to get rid of their landline phone, but having a landline phone can make seniors more likely to get scammed. Scammers often target landline numbers because it's likely that the person who has it is a senior. If your senior loved one really doesn't want to get rid of their landline phone, or if you want to make sure they have a landline phone in case they need to call for help then you should make sure that the number is unlisted. You should also register on the Do Not Call list and do whatever you can to keep the number private.
Monitor Computer Use
Seniors may use social media and do some light Web surfing even if they aren't very up to date on modern technology. That can increase their risk of beings scammed because they are not familiar with the many different email and social media scams out there. You can help keep your senior loved one safe while they are online by monitoring their social media accounts and email. You also can use the software set up to safeguard children online to help protect your senior parent from online scams. Pop up blockers, spam filters, and keystroke loggers are all good to have. You should also install virus prevention and other safety programs on your senior loved one's computer.
Put Fraud Alerts On All Of Their Accounts
If you have access to your senior loved one's bank and credit accounts make sure that any fraud alerts or protections that the financial institution offers are enabled. This might mean 2 factor verification or it might mean getting automatic alerts if there is any activity on their bank accounts or credit cards. Set up any notifications to go directly to you. If fraud does occur it's important to find out about it as son as possible so you can stop it fast. The automatic notifications will let you know if something happens that needs attention.
Set Up Automatic Payments For Bills
Another very popular scam that targets seniors is scammers calling to say that the utilities are going to get shut off if a bill isn't paid immediately. Seniors will usually then think that they forgot to pay the bill and get out their credit card or checkbook. You can help prevent seniors from getting victimized by this scam by setting up automatic payments for the mortgage, the utilities, the rent, or any other bills that needs to be paid each month.
If you or an aging loved one are considering Senior Home Care in China Grove, NC, contact the caring professionals at TenderHearted Home Care today. Call us at (704) 612-4132
Source:
https://www.fbi.gov/scams-and-safety/common-scams-and-crimes/elder-fraud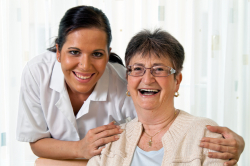 Latest posts by TenderHearted Home Care, LLC
(see all)