The Future of Home Care Assistance Technology
Technology is changing lives in many ways, and for older adults, technology can heighten safety when living alone. Many changes over the years have helped older adults live independently, whether it's motion sensors with fall detection or smart light bulbs that turn on and off in the middle of the night with a simple command.
Have you looked at some of the latest technologies being tested or produced for older adults and their family caregivers? The future of assistive technologies is certain to impress.
Kepler's Night Nurses
A lab in Belgium is working on an AI night nurse that can monitor when an older adult gets up in the middle of the night. The technology detects falls and when a person is wandering outside of the authorized areas. It can monitor multiple rooms and people at once.
Right now, the technology is best suited for nursing home settings, but as trials continue, it could prove to be helpful to family caregivers who are taking care of more than one family member at the same time.
Parkinson's Shoe Inserts
Texas A&M University's Mechanical Engineering department is working on a shoe insert that adults with Parkinson's wear. It continually monitors movements to determine how the disease is progressing and calculate when falls and balance issues are more likely to start occurring. The goal is to predict when mobility assistance is needed to prevent falls.
VR Headsets
Most people understand what a VR headset is, and you may have had the chance to try it out. Embodied Labs created a VR headset that is useful for caregivers caring for a parent with dementia or another chronic health issue.
Put on this headset and you get to experience what Alzheimer's, Parkinson's, or eye diseases like macular degeneration is like from your parent's perspective. Right now, these VR headsets are only for businesses, but they could end up available to the general public with more testing.
NeuroLabs has also come out with a VR headset for older adults who have suffered a stroke or have a neurodegenerative disease. The VR headset takes information about the user and provides exercise programs that match their needs as they regain fine motor skills, balance, and movements. Again, these are not yet available to the general public.
EllieQ
You've heard of robotic cats or dogs to help end some of the isolation or loneliness older adults feel, especially those with dementia. EllieQ is an AI speaker that provides the social stimulation older adults need. The device can initiate and hold conversations, offer reminders, or even make sure that the user remembers to get outside or call a friend or family member.
Technology can only do so much. The best way to support your mom's desire to remain independent is by arranging home care assistance. Have caregivers help your mom with daily routines and provide transportation to appointments and area stores. Learn more about home care assistance by calling an agency and talking about your mom's health and lifestyle.
If you or an aging loved one are considering

Home Care Assistance in Lexington

, NC, contact the caring professionals at TenderHearted Home Care today. Call us at (704) 612-4132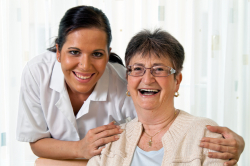 Latest posts by TenderHearted Home Care, LLC
(see all)