Why Is Physical Therapy a Crucial Part of Your Senior's Care Plan?
Is it possible that physical therapy might be more important in your senior's overall care plan than you realize? There might be some ways that physical therapy, particularly offered in her own home where she's most comfortable, could offer huge benefits for your senior. Working with your senior's doctor can help you and your senior to find the right solution for her.
Physical Therapy Can Be Proactive
Lots of family caregivers feel that something like physical therapy is only a treatment, and something that helps after a surgery or when your senior is recovering from an injury. Physical therapy can be very proactive for your senior, especially if she's trying to become more active or she's interested in protecting movement and range of motion before those become issues. Your senior can head off issues before they become problems simply by working with a therapist.
It Can Also Help with Injuries and Recovery
Physical therapy can definitely be helpful if she does need to recover from an injury or surgery, though. Your senior's doctor may prescribe certain types of movement, massage therapy, or other types of therapy. A physical therapist can help to make sure that your senior's body mechanics are correct and that she's not injuring herself more while recovering.
Physical Therapy at Home Addresses Mobility Issues
If your elderly family member has had difficulty walking or moving in other ways, physical therapy can address the specific issues that she's having. This can help to prevent things like becoming fearful of moving more, which can lead to your senior ceasing most movement. Moving more has been correlated with better mental health and better cognitive functioning, so it's important that she continues to move as well as she can.
And Physical Therapy Can Decrease Fall Risk
Another big reason for your senior to keep moving is because that can help to reduce her fall risk. Physical therapy at home can address the specific issues that are contributing to your elderly family member's potential for falling. Physical therapists work closely with your senior's doctor to ensure that all the bases are covered.
Your senior may need more help from a physical therapist than she realizes. Having someone come to help her at home means that she doesn't have to worry about how to get to her appointment or navigating all the different obstacles she might encounter. She's much more likely to stick with her treatment plan.
If you or an aging loved one are considering Home Health Care in China Grove, NC, contact the caring professionals at TenderHearted Home Care today. Call us at (704) 612-4132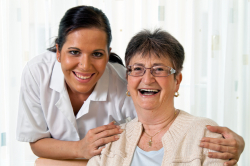 Latest posts by TenderHearted Home Care, LLC
(see all)