Tips for Coping with Caregiver Stress During Your Parent's Cancer Journey
Being a family caregiver for an elderly adult can be extremely stressful. This is only amplified when your aging parent is dealing with a challenging health concern such as cancer. In this situation you are not just dealing with the challenges of caring for them and helping them to address their needs and limitations. You are also going through this situation as their loved one, and dealing with the emotions of watching them suffer through it. The stress that you can experience during this time can be detrimental to your health and well-being, and threaten your ability to care for your senior in the way that they desire and deserve.
Use these tips to help you cope with your caregiver stress during your elderly loved one's cancer journey:
• Be aware of caregiver guilt. Caregiver guilt can be tremendously difficult. When your senior is going through a difficult health experience it is easy to feel as though you are not doing enough, that you are not with your parent often enough, that you are not making the right decisions for them, or that you have not had a good enough relationship with them. This can put a major emotional strain on you and keep you from making the decisions that are truly right for both of you. Recognize when you are going through this and be ready to confront and resolve it.
• Know you deserve time to yourself. Just because your parent is going through a difficult health experience does not mean that you no longer have a life, or that you do not deserve to take care of yourself. In fact, taking time to yourself and caring for yourself is critical to preserving your own health and well-being, and making sure that you can give your parent the care that they need as well.
• Seek out and accept help. Do not expect yourself to be able to handle all of the challenges that come with caring for a senior going through cancer. Seek out support and help from others, including reaching out to a professional home care provider, and accept the help that is offered to you. Even simple assistance such as sitting with your parent for a few hours in the afternoon or preparing a few freezer meals can make a huge difference in your stress.
If you have found that your parent's needs and challenges are more extensive than you can handle comfortably, or your own limitations or schedule have made it so that you are not managing your parent's needs in the best way possible, now may be the ideal time for you to consider starting home care for them. A care provider can be an exceptional way to ensure that your elderly parent's individual needs are met in the way that is right for them and on the schedule that is best not just for them, but also for you as their primary caregiver.
This can enable your senior to live a lifestyle that is more active, engaged, and fulfilling, while also permitting you to take a step back and focus more energy and attention on other obligations in your life, easing your stress and supporting a better quality of life for both of you. Knowing that your elderly loved one has access to this level of personalized care can be exceptionally beneficial for you as their family caregiver as well.
This can reassure you that even when you need to take a step back to handle other obligations in your life, or simply to take care of yourself, your parent will still have everything that they will need to remain healthy, safe, comfortable, and happy as they age in place.
If you or an aging loved one are considering 

Caregiver Services in Lexington NC

, please contact the caring staff at Tender Hearted Home Care today. (704) 612-4132.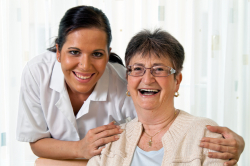 Latest posts by TenderHearted Home Care, LLC
(see all)