TenderHearted Home Care was Presented with a "Rising Star" Award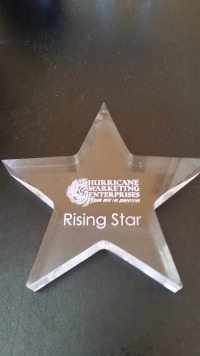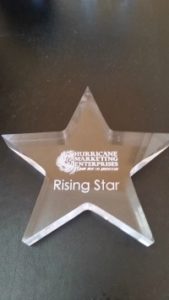 Renee Gray, owner of TenderHearted Home Care, was very proud and excited to be presented with a "Rising Star" award at the Hurricane Marketing Boot Camp in Atlanta, GA on November 9, 2017.
The Rising Star Award recognizes the tremendous effort and growth Tenderhearted has experienced in the last six months, resulting in more than doubling of hours servicing clients – without a single missed visit!
Renee recognizes the awesome administration team (Traci Collins, RN, Tracey Barbee and Peter Gray) and over 30 CareProfessionals who have a part in the success and, most importantly, the excellent, client-centered care that this Rising Star Award represents. Renee also thanks Meghan, from Hurricane Enterprises, for her encouragement and wise counsel.
Hurricane Marketing Enterprises (http://www.homecaremarketing.net) is the one and only marketing company providing expertise knowledge on all things Sales and Marketing in the Home Care Industry.
Tenderhearted Home Care provides professional, affordable, and excellent in-home living assistance for seniors in the Piedmont area of North Carolina. If you want to learn more about having the Tenderhearted team of CareProfessionals care for you or your loved one, or if you want to join the CareProfessionals at Tenderhearted, call Renee at 704-612-4132 or visit www.TenderHeartedHomeCare.com.
If you or an aging loved one are considering Home Care Services in Lexington NC, please contact the caring staff at TenderHearted Home Care today. (704) 612-4132.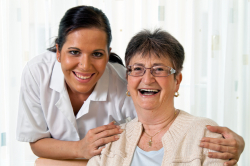 Latest posts by TenderHearted Home Care, LLC
(see all)