Surprising Habits That You Might Not Realize Are Signs That Older Adults Need Home Care Services
How do you know when your mom needs home care services? There are certain habits that you might notice that are key indicators of her need for more help around the home.
Eating Takeout Meals Regularly
If your mom is relying on takeout pizzas and other area restaurants for every meal, there's a problem. Once in a while is fine, but every meal is likely to be providing your mom with too much sodium, sugar, and saturated fat.
It's time to talk to her about having a caregiver stop by every day to prepare her meals and snacks. She needs to eat a balanced, healthy diet full of vegetables, fruits, whole grains, low-fat dairy, and lean proteins.
Failure to Pay Bills on Time
You stop by to see your mom and find some bills marked "overdue" or "disconnection." If she's losing track of what bills have been paid and which bills are still due, it's time for someone to step in and help her organize her mail and make sure she's reminded when a bill is due.
Wearing the Same Clothes
Wearing a shirt or pants several days between washings isn't too alarming. But, your mom has been wearing the same sweater and pants for two weeks. That's a sign there's an issue.
She's not doing the laundry, and you're not sure why. When you ask her, you learn she's too scared to go down the stairs to the laundry room. She fell and never told you. It's essential to get home care services set up for weekly laundry.
Lacking Energy
Your mom used to love going out for walks. She was always out in her garden, but since your dad passed away, she sleeps all day. She stays inside and has no energy.
Those are signs that your mom is experiencing depression. She may not love the idea of having a home care aide with her every day, but she needs someone around to help her stay motivated, get to her therapy appointments on time, and take medications as prescribed.
Repeated Questions
Your mom is asking you the same questions dozens of times each day. At first, you rule it out as being old age forgetfulness. It could be the early warning signs of Alzheimer's disease.
Repeated questions are a common sign of dementia. If she hasn't talked to her doctor, it's time to ask for an assessment. The longer she has to work with a home care aide, the easier it is for her to adjust to a new person.
Once you know your mom needs home care aides to help out, make the call. Don't wait until the last minute. If you take the necessary steps as soon as you know, it's going to be less stressful for everyone. Call a home care agency today.
If you or an aging loved one are considering Home Care in Thomasville, NC, contact the caring professionals at TenderHearted Home Care today. Call us at (704) 612-4132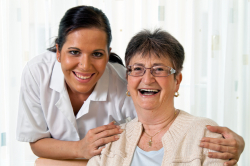 Latest posts by TenderHearted Home Care, LLC
(see all)