Empowering Seniors to Embrace Physical Therapy
Even though getting older is a normal part of life, that doesn't mean seniors have to give up on living an active life and simply deal with the limits that come with it. Physical therapy can be very helpful for older people who want to keep or improve their quality of life and mobility. Physical therapy suggestions, on the other hand, are often met with hesitation or uncertainty. To help seniors get better health and movement, it's important for loved ones and the home care team to understand how physical therapy can help seniors and find ways for them to embrace its importance.
How Can Physical Therapy Help Seniors?
Physical therapy is an important part of healthcare for seniors because it has many benefits that can make a big difference in their lives. Some of the benefits are detailed below:
Better Mobility: Aging-related diseases, injuries, or surgery can make it hard for seniors to move around. Getting physical therapy can help improve their strength, balance, and coordination, which can make daily tasks easier and safer.
Pain Management: Many seniors have long-term pain problems, like arthritis or back pain. Through non-invasive techniques, physical therapy can help ease pain and cut down on the need for painkillers.
Avoiding Falls: Seniors often hurt themselves when they trip and fall. Physical therapy can help them get their balance and confidence back, which lowers their risk of falling and getting hurt.
Improved Quality of Life: Seniors who go to physical therapy often say they have a better quality of life because they can stay independent and do the things they enjoy.
Faster Recovery: Physical therapy may help people heal faster from surgery or hospital stays by preventing complications and lowering their risk of needing to go back to the hospital.
What Issues Do Seniors Face When Dealing With Physical Therapy?
Even though there are many perks, seniors often have trouble following through with their physical therapy recommendations. This might be due to a lack of motivation and the inability to push themselves through the pain that is often associated with the exercises. However, gentle encouragement from the home care team and loved ones can help. The support team can also assist when the roadblock is transportation to get to physical therapy. Beyond those issues, some seniors might understand the importance of physical therapy but have a hard time sticking to a routine.
How Can the Home Care Team Help?
Some ways the home care team can help are mentioned above. In addition to those, the team might be able to help seniors complete their physical therapy in the home, help them work through their feelings of sadness and frustration, as well as ensure they communicate how they feel physically.
In the end, seniors who want to keep or improve their movement and quality of life can gain quite a few benefits from physical therapy. And with support from home care and loved ones, any gaps can be filled, encouraging seniors to keep reaching for their goals. When seniors have a strong support system, they can enjoy a better quality of life in their golden years.
If you or an aging loved one are considering home care in Concord, NC, contact the caring professionals at TenderHearted Home Care today. Call us at (704) 612-4132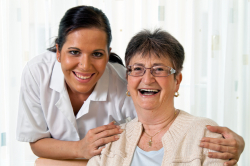 Latest posts by TenderHearted Home Care, LLC
(see all)