Fall Dinner Ideas for Seniors
Fall is coming, so the weather will cool down, the leaves will turn colors, and it's time to find some warm and hearty meals for seniors to enjoy. Unfortunately, this is the time of year when snacks and meals can become filled with sugar and carbs that your senior loved one might want to avoid. Every senior will have different diet restrictions or different diets they should be following. If you're trying to figure out what your loved one should be eating, it's time to talk to their primary care doctor to figure it out. 24-hour home care can help them stick to the diet and find the best fall dishes. After you figure out what they can start eating, here are some fall recipes you or 24-hour home care can try out with your loved one today.
Chicken Pumpkin Curry
Some seniors want to remain independent, which means cooking for themselves. One of the best tools a senior can utilize is a slow cooker, and can use the lowest setting throughout the day. This kitchen tool will help them cook their meals but also not be a safety hazard for them. 24-hour home care can still help a senior by checking on their food and ensuring it doesn't burn. One of the greatest fall recipes is chicken pumpkin curry! All you need is boneless chicken, fresh or canned pumpkin, curry, and your favorite fall vegetables. You can use the recipe above, but don't be afraid to add different vegetables that the doctor says your loved one should eat.
Garlic Herb Pot Roast
A hearty meal screams fall. Utilizing one-pot dishes can be amazing for seniors, especially those who want to age in place. It's easy to prepare and clean up, and it makes some amazing leftovers all week. Your loved one can either use a pot in the oven, or they can use a slow cooker to make this pot roast recipe. All you need for a garlic or Italian roast is a chuck roast, Italian and garlic seasoning, red wine, and vegetables. Your seniors can create a sauce or a gravy if they can eat it; if not, this recipe can be enjoyed on its own.
Crispy Mac and Cheese
If your senior loves cheese, the truth is no one is ever too old for mac and cheese. Take the classic dish and elevate it in the oven. All you have to do is make the classic mac and cheese, put it in an oven-safe dish, and top it with parmesan and bread crumbs. This crispy mac and cheese is an easy recipe that won't take long. You can easily make it and bake some of your senior's favorite vegetables to go with it. Broccoli or carrots will be an amazing side for this meal.
Paleo Chili
The paleo diet, short for paleolithic diet, is based on the idea that our bodies are best adapted to the types of foods our hunter-gatherer ancestors consumed. This means your senior should eat lean meats, fish, and vegetables and avoid processed foods. Paleo chili is one of the best fall foods that fits into that category and is easy to put together. The best news about this recipe is it's another slow cooker recipe. You'll need a chuck roast, ground beef, your favorite veggies, tomato cause, and fire-roasted tomatoes. You can leave this all on low for the full day or turn it on high for just a few hours.
If you or an aging loved one are considering 24-Hour Home Care in Thomasville, NC, contact the caring professionals at TenderHearted Home Care today. Call us at (704) 612-4132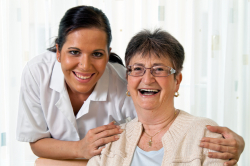 Latest posts by TenderHearted Home Care, LLC
(see all)