Give A Family Senior Caregiver The Gift Of Respite Care This Year
If you have a family member that takes care of your senior parent with Alzheimer's throughout the year one of the best gifts you can give them is the gift of respite care. Respite care allows caregivers the time they need to take care of their own needs, both physical and emotional. Taking care of a parent with Alzheimer's is difficult physically and emotionally. Caregivers need regular breaks so that they can go to talk with a counselor or join a support group, or get their hair cut, or do other activities that they neglect in order to care for a loved one with Alzheimer's.
Alzheimer's care is unique because it's designed to address the unique needs of each senior living with Alzheimer's. Alzheimer's affects every senior in a unique way and each senior who has it will have different abilities, different rates of progression, and it will impact their personalities in different ways. When your senior loved one has specialized Alzheimer's care the care provider will use proven techniques to make your senior parent feel safe, protected, and confident. Some of the other things that Alzheimer's care offers are:
Short or Long Term Care
Respite care for a family member that takes care of a senior with Alzheimer's can be a one time occurrence that gives your family caregiver a day or two off so that they can take a little vacation or it can be a regular service that takes care of your senior parent on a regular schedule every week or every two weeks so that your family caregiver can take care of their needs and responsibilities. Your family caregiver can even take a vacation and your senior parent will be well-looked after. 
Guidance
It's difficult for family members to know how to navigate taking care of a parent with Alzheimer's. With guidance from an experience Alzheimer's caregiver your family caregiver will be able to find out what techniques are the best to use with your senior parent and how to continually engage and connect with them as the disease progresses. Since there is no cure for Alzheimer's it's important for family members to know what to expect and how to handle common situations. 
Support For Seniors And Caregivers 
Often family member that live far away from a senior parent with Alzheimer's and a sibling or relative who is caring for that parent feel guilty that they aren't doing more to help. But getting Alzheimer's care for your senior parent with Alzheimer will help the caregiver and the parent. What your sibling or relative that is caring for your senior parent really need is support, and the support of a trained and experienced Alzheimer's care  provider can make a big difference. 
Giving the gift of Alzheimer's care helps your family member who is taking care of your senior parent and your senior parent. If you have questions about respite care for a family caregiver or the benefits of Alzheimer's care call us today to learn more. 
If you or an aging loved one are considering Alzheimer's Home Care in Kannapolis, NC, contact the caring professionals at TenderHearted Home Care today. Call us at (704) 612-4132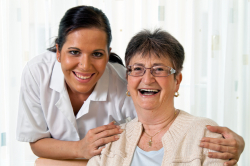 Latest posts by TenderHearted Home Care, LLC
(see all)