Preserving Precious Moments: The Importance of Recording Memories with Seniors
There are a lot of events, stories, and memories along the path of life. These special memories become an important part of who seniors are as they age. Seniors have a wealth of knowledge and life events that can be passed down from one generation to the next. Recording these memories is an important way to make sure they don't disappear. With the help of loved ones and the home care team, seniors can be encouraged to record these memories.
Why is Recording Memories Important?
Older people have a wealth of information about their own lives, their families' lives, and their cultural backgrounds. These personal stories are not only interesting, but they also help them hold on to a special part of who they are. Keeping these memories alive makes sure that the information and experiences of one generation are passed on to the next.
Sharing memories with their family can be a strong way to strengthen their bonds with them. Additionally, hearing seniors' stories can help family members understand their loved ones better, which can lead to more respect and connection. For many seniors, talking about their past can also be healing. It gives them a chance to think about their lives, remember both the good and bad times, and come to terms with them.
It is thought that writing down memories is a great way for seniors to keep their minds sharp. This will keep their thoughts busy and active, which helps keep them from losing their memories or having issues with cognitive functioning. Sharing memories with others can also make them feel better about themselves and give them a sense of purpose.
Tips For Helping Seniors Keep Memories Alive
The home care team and loved ones can help seniors with their recordings to ensure they are well documented. Some tips that might help include the following:
Interviews like Conversations: Talk to seniors about their lives in a relaxed, open-ended way. Get them to talk about their childhood, school, job, family, and any important events in their lives. Write down or record these conversations on audio or video to keep a record of them.
Make a Memory Book: Put together a scrapbook or memory book with pictures, keepsakes, and handwritten stories. This book can be passed down from one generation to the next, and each new generation can read the pages and learn about their family history.
Oral History Projects: To take part in oral history projects, work with local historical groups, libraries, or schools. Seniors can talk about their lives with more people and add them to group archives.
Digital Platforms: Make digital memory stores with technology. Loved ones can easily share seniors' stories, pictures, and videos on websites, blogs, and social media sites. Anyone in the world can easily view these digital records, and they can be changed and added to over time. If seniors also want to join in, the home care team can help them troubleshoot the technology.
Not only does recording seniors' stories and memories help keep history alive, but it also strengthens family ties, brings comfort and closure, and keeps seniors' minds busy. So, make time to sit down with seniors, listen to their stories, and learn from the many valuable lessons they can teach. Both the home care team and loved ones are vital in ensuring seniors' voices are heard.
If you or an aging loved one are considering Home Care in Statesville, NC, contact the caring professionals at Samaritan Healthcare today. Call us at (704) 878-0522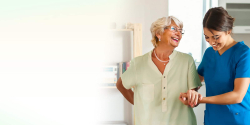 Latest posts by Samaritan Healthcare Staff
(see all)