Colorectal Cancer Awareness Month
Senior Care in Lexington NC
March is such a hopeful month, a time for looking forward to new growth, with the promise of Spring in the air and the grey of winter fading. There is nothing quite like the excitement of looking around and seeing the blossoms beginning to pop out all over!
What many do not know is that March is also set aside as Colorectal Cancer Awareness Month. A cancer that typically begins as polyps (unusual growths in the colon or rectum), colorectal cancer develops in the colon or rectum. While most of us may find this topic uncomfortable because of the personal positioning of the illness, this cancer–when caught and treated early– is absolutely preventable and treatable.
Screening & Suspicious Symptoms
Colorectal cancer may go for months or even years undetectable, with virtually no visible symptoms, and is often referred to as the silent killer. If you experience symptoms, they could include changes in bowel routines (perhaps a change in the appearance of the stool, or unexplainable constipation or diarrhea), a persistent uncomfortable feeling in the abdomen (may feel bloated, gassy, or even experience pain), rectal bleeding, and weakness or fatigue.
Any of these symptoms should be cause for enough concern to contact your doctor and discuss the possibility of a screening, such as a colonoscopy. It is also a good time to gather resources to educate yourself on colorectal cancer, its prevention, detection, and treatment.
The Colon Cancer Alliance strives to educate and empower by reminding people to get screened, providing resources to facilitate conversations between patients and doctors (including a free download of a "Symptom Diary"), and raising awareness through such things as walk/run fundraisers and the annual "Dress in Blue Day". They advocate prevention and screening and encourage each person to be informed and aware of what colorectal cancer does (and does not) look like.
Top Five to Stay Alive
According to the Center for Disease Control (the CDC), the top five tips for staying ahead of colorectal cancer are:
1. Regular screening between the ages of 50-75.
2. Stay active.
3. Keep a healthy weight.
4. Limit alcohol intake.
5. Abstain from smoking.
There is a direct correlation between age and the risk (for both men and women) to be diagnosed with colorectal cancer. That is why a screening test for anyone over 50 is critical in the battle against the second deadliest cancer in the US, where 140,000 cases are diagnosed annually with more than 50,000 of those resulting in death.
We Are Here For You
At TenderHearted Home Care, we want our clients and their families to know we care. If you or your loved one have any questions about colorectal cancer or have concerns over any symptoms you are experiencing, we strongly urge you to call your doctor today. Don't let potential embarrassment over the subject get in the way of stopping this silent killer for good. TenderHearted Home Care can provide senior care in Lexington, NC during a time of treatment or recovery.
TenderHearted Home Care (THHC) is a non-medical, in-home care agency located in Salisbury. THHC provides services to the elderly and disabled/handicapped through companion/sitters (non-hands-on care), Personal Care Attendants (limited physical assistance) and CNAs (extensive physical assistance). THHC can offer respite to family caregivers, extend and enhance safely living at home, or bring one-on-one personal care to the senior living in a group facility. While THHC cannot replace the love and support of family, our caregivers provide helpful services needed to brighten the day, lighten the workload and ensure peace of mind.
If you or an aging loved one are considering hiring a professional caregiver contact the caring professionals at TenderHearted Home Care today. Call us at (704) 612-4132.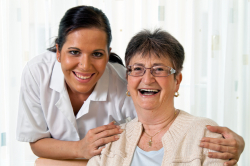 Latest posts by TenderHearted Home Care, LLC
(see all)