Senior Home Care Tips for Light Summer Meals
Now that the weather is warming up it's a great time to start thinking about lighter meals that will be easier for seniors to eat. Often in the summer seniors prefer to have light meals that sit more gently on the stomach rather than heavy meals that can make them sick in the heat. It can be challenging to make light and healthy meals that are appealing to seniors. Senior home care can help make sure that your senior parent is eating enough during the warm weather. They can also help with shopping for fresh light foods and preparing refreshing and delicious meals and summer treats.
Salads
Salads are a summer staple because they are easy to make, they can be made with a huge variety of ingredients, and they are fantastic on a hot day. Adding protein to a salad is an easy way to make a fast, delicious, and light meal that any senior will like. Try a cold pasta salad with cut up chicken breast, tomatoes, and onions for a hearty salad. Or add protein by adding chickpeas instead of meat if your senior parent doesn't like meats in their salad. Don't skimp on the cheese and dressing if your senior loved one isn't eating enough. Those are easy ways to add some extra calories. Their senior home care provider can always assist in helping them prep these meals ahead of time.
Cottage Cheese And Fruit
Your senior parent may remember these classic summer meals from the 60s and 70s when they were popular. It might not seem like much for dinner but cottage cheese and fruit is a fantastic meal for breakfast, lunch or dinner. It makes a great summer dessert too. Cottage cheese can be sweetened by adding whipped cream and sugar-free gelatin powder. It contains more protein than some steaks. That's why cottage cheese and fruit is a surprisingly healthy but light meal.
An Elevated Tomato Sandwich
Tomato sandwiches are a staple of summer, but you can create an elevated version for your senior parent by taking a slice of artisan bread and topping it with a good amount of ricotta cheese. Add salt and pepper and bake it until the ricotta is soft. Top with a fresh slice of tomato and some herbs. It's a delicious variation on a classic that your senior parent will really enjoy.
Burrito Bowls
Tacos and burritos are deliciously light, but they can be hard for seniors to eat. For a light summer dinner, just put all the ingredients that would go into a traditional burrito or taco into a bowl and serve with everything jumbled together. Seasoned beef or seasoned shredded chicken are great proteins for the base. Then add shredded lettuce and fresh tomatoes or some salsa. Throw in some queso fresco and top with sour cream and guacamole. That's a delicious, creamy, refreshing meal that is easy to eat and packed with nutrients.
If you or an aging loved one are considering Senior Home Care in Thomasville, NC, contact the caring professionals at TenderHearted Home Care today. Call us at (704) 612-4132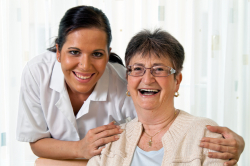 Latest posts by TenderHearted Home Care, LLC
(see all)