Signs Your Senior Parent Needs 24-Hour Care
If your senior parent is aging at home they might need more help than you realize. It's normal for children to think that their senior parents are just fine on their own, but they may be struggling. As seniors get older a lot of the day to day things that need to get done in order for them to be safe and happy at home get more difficult. And if your senior parent has medical issues they may need extra help in order to be safe at home. 24-hour home care for seniors can help seniors who want to stay in their own homes be safe and healthy at home. But your senior loved one may not tell you when they start to need more help. It's up to you to recognize the signs that your senior loved one needs 24-hour home care like:
Being Tired All The Time
If your senior loved one is tired all the time and they're not sleeping well that could be a sign that they need around the clock care. If they can't sleep at night because they have trouble getting in and out of bed, or they are afraid of falling if they get up to go to the bathroom, or they just get scared being alone in the house then it's time to talk about having someone in the house with them all the time. Seniors need healthy restful sleep to be healthy. If your senior parent isn't getting that sleep they need help. 
Losing Weight
If you are noticing that your senior loved one is looking thinner than usual and they're not trying to lose weight that's a red flag you should pay attention to. Seniors often don't eat enough during the day. Malnutrition is something that affects a huge number of seniors. Seniors need to be eating regular healthy meals so that they are getting the nutrients they need. If your senior loved one is having trouble cooking for themselves or shopping they need home care help. 
Having Anxiety At Night Or When You Leave
If you are getting phone called every night from your senior loved one who is afraid to be alone or if your senior loved one gets anxious when you leave after you visit them because they don't want to be alone that's a sign they need 24-hour care. It's totally normal for seniors to be a little anxious about being alone at night, especially if your senior parent recently lost a spouse. But having a cheerful companion there with them throughout the night will make it much less scary. 
Things Falling Apart Around The House
If you're noticing that the house is dirty, laundry isn't getting done, and small things keep breaking around the house it's time for more home care. The amount of care your senior loved one is getting isn't enough to keep the house safe and clean for your senior loved one so you need to increase the amount of help that your senior parent is getting.
If you or an aging loved one are considering 24-Hour Home Care in Kannapolis, NC, contact the caring professionals at TenderHearted Home Care today. Call us at (704) 612-4132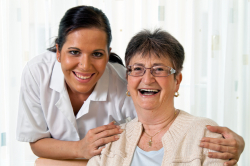 Latest posts by TenderHearted Home Care, LLC
(see all)