Six Key Facts to Learn During Women's Heart Week
Over 6% of U.S. women aged 20 or older have coronary heart disease. Many don't even realize it or feel any symptoms. That's why Women's Heart Week is so important. Learn these six key facts about women and heart disease.
20% of Deaths Among Women Are Due to Heart Disease
One in every five deaths among American women is directly attributed to heart disease. Several factors increase the risk of heart disease and they include a sedentary lifestyle, alcohol abuse, poor diet, and diabetes.
Black Women Have a Higher Risk
According to the American Heart Association, over 58% of African-American women aged 20 or older have heart disease. It's especially important for women of color to talk to their doctors about risk factors and screenings related to heart health.
Bystanders Are Less Likely to Help
If your mom is out and has a cardiac event, research shows that bystanders are less likely to perform CPR on a woman. Those studies found that 45% of men having a cardiac event were helped by strangers, while only 39% of women received help. Being accused of inappropriate behavior was a leading reason bystanders gave for refusing to help.
Less Than Two Out of Five Participants in Heart Studies Are Women
When it comes to clinical studies regarding heart health or new treatments or medications, only 35% of those participating are women. Men are far more likely to be included in these studies.
64% of Women Who Have a Cardiac Event Had No Symptoms
More concerning is that about three out of every five women who had a life-ending cardiac event never experienced symptoms. Sometimes, symptoms aren't recognizable as being related to heart disease, such as jaw pain, nausea, or vomiting.
It's essential to see your doctor each year. Have your blood pressure checked regularly, lose weight, and eat a healthy diet high in fiber and low in saturated fat, sugar, and sodium.
Medications Aren't Often Prescribed Early
Despite the fact that there are many medications that can help with heart disease, women are less likely to be prescribed these medications early on. Your mom may need to push to see a cardiologist and be properly diagnosed.
If your mom has been diagnosed with heart disease, it's important to support her routine at home. She must take her prescription medications, eat a heart-healthy diet, and get enough exercise. She cannot overdo it though. If there are activities her doctor has told her to avoid, she needs to follow her doctor's recommendations.
Home care services are there to help your mom with her daily activities. She can have a caregiver carry heavy laundry baskets down the basement stairs. Her home care aide can help her run errands, get to appointments on time, and eat the right foods. Call a home care specialist to learn more.
If you or an aging loved one are considering Home Care in Thomasville, NC, contact the caring professionals at TenderHearted Home Care today. Call us at (704) 612-4132
Sources:
https://www.cdc.gov/heartdisease/women.htm
https://www.goredforwomen.org/en/about-heart-disease-in-women/facts/common-myths-about-heart-disease
https://weillcornell.org/news/13-facts-every-woman-should-know-about-heart-disease
https://www.goredforwomen.org/en/about-heart-disease-in-women/facts/heart-disease-in-african-american-women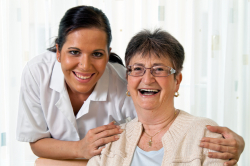 Latest posts by TenderHearted Home Care, LLC
(see all)