Support Your Mom During World Alzheimer's Month
September is World Alzheimer's Month. It's a month for people around the world to learn more about the impact of Alzheimer's on people with Alzheimer's and their families and friends. Your mom has Alzheimer's disease. How are you supporting her through this difficult disease?
Encourage Her to Be Social
Encourage your mom to be as social as you can get her to be. Many people with Alzheimer's retreat and try to avoid interactions. Make sure you get your mom out of the house and keep her as social as you can. It will help her in the long run by easing anxiety and depression, reducing stress, and provides structure and routine to her day, which can help lower the occurrences of sundowning.
Eat a Healthy Diet
Even as her skills worsen, make sure your mom is eating as much of a healthy diet as possible. She may crave sugary treats, it's not uncommon. You may not be able to stop her from wanting cookies, brownies, and other baked goods, but try to balance it with healthier options like apple slices, bananas, and berries.
Try to make sure she eats plenty of vegetables, fish, and fiber-rich foods like beans. She needs to drink plenty of water, too. UTIs are common in the latter stages of Alzheimer's, so keeping her hydrated can help keep the kidneys and bladder flushed.
You also need to make smart food choices. It may be tempting to order takeout meals or fast food to save time, but the sugar, salt, and saturated fat can become detrimental to your health.
Get Enough Exercise
Part of self-care involves getting enough exercise. Your mom also benefits from a daily walk, but as Alzheimer's worsens, she cannot walk alone. Make sure someone is there to walk with her. She shouldn't have to give up her daily walk because of dementia. Get outside for a half-hour walk every day.
Are you and your mom able to walk together? If your mom is still mobile, sign up for a local Alzheimer's walk. Many local Alzheimer's Association chapters host these awareness events. You'll meet other family caregivers and Alzheimer's advocates.
Hire Alzheimer's Care Aides
You can care for your mom as much as you can, but you cannot forgo your personal life. Spend time with your children, your friends, your spouse, etc. by hiring Alzheimer's care aides to supervise your mom's activities. With caregivers spending time in your absence, your mom can't wander off or risk a fire while cooking a meal or making coffee.
Alzheimer's care aides can help your mom with her grooming and hygiene routines. They'll help her dress appropriately, have a healthy meal, and get to appointments on time. Call a home care agency to learn more.
If you or an aging loved one are considering Alzheimer's Home Care in Lexington, NC, contact the caring professionals at TenderHearted Home Care today. Call us at (704) 612-4132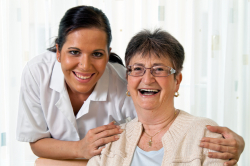 Latest posts by TenderHearted Home Care, LLC
(see all)