TenderHearted Celebrates 9 Years of Service
On May 19th, 2020, TenderHearted Home Care celebrated 9 years of home care service to the community. The company has continued to grow and also broke their record number of service hours in the same week as their anniversary. To celebrate the company's achievements, the administration had CarePros come by the office and pick up cake and punch. Those who have been with the company for over a year were awarded with special gifts for their commitment and dependability based on their years of service. TenderHearted Home Care gives all the honor and praise to God for allowing the company to flourish and be where it is today. The administration would also like to give a special thanks to the CarePros as the past year has come with many challenges and they have taken it in stride by providing the best care to our clients.
Owner, Renee Gray, thanks her community referral sources for their confidence in TenderHearted and support throughout the years. It is an honor to serve the seniors in our community.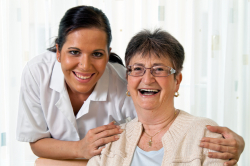 Latest posts by TenderHearted Home Care, LLC
(see all)