What Are the Stages of Alzheimer's That Require Around-the-Clock Care?
Your mom has Alzheimer's, and it's all new to your family. You realize that her need for caregivers will increase in the months and years to come. How can you tell when part-time elder care services are not enough? How do you know when 24-hour home care is necessary?
Stages of Alzheimer's Where Around-the-Clock Care is Necessary
In the early stages of Alzheimer's disease, your mom's main symptoms will be forgetting she's told you something or already done something. She may find it hard to remember people's names when she bumps into them in stores.
As the disease progresses, care needs increase. Some of the more concerning symptoms include:
Wandering
Wandering is one of the most challenging aspects of Alzheimer's, as it may start without warning. Your mom goes for a walk like she's done for years, but she's gone longer than usual. 
When you go outside to see if she's talking to a neighbor, you find her down the road saying she wants to go home. She no longer recognizes her home and is lost. At that point, wandering is happening, and you can't ignore it. 
The problem with dementia and wandering is that your mom may not walk along usual routes. She may walk into the woods and fall. You can track her through GPS on a watch or cellphone, but she must remember to take it with her when she leaves home.
Meal Preparation
Your mom wakes in the middle of the night and is hungry. She goes to the kitchen, puts a frozen pizza in the oven, and forgets what she's done. Your mom goes back to bed, forgetting something is cooking. Kitchen fires are a risk as Alzheimer's disease progresses.
Hire caregivers to cook your mom's meals and snacks. With caregivers preparing foods for her, you don't have to worry about your mom starting a fire that puts herself and others at risk.
Medication Management
Your mom has medications she must take, but she can't remember taking them. As she's uncertain, she takes them anyway. A few hours later, she's taken the same pills four times. Her pills need to be locked away and given to her when necessary to prevent this. Around-the-clock caregivers can help her with medication reminders.
Mobility
In the final stage of Alzheimer's, your mom won't be able to walk around. If she tries to be mobile without help, she'll fall. She needs to have someone to hold her when she uses the toilet, takes a shower, or gets into and out of bed.
Acclimate Your Mom to Caregivers Early
Get your mom acclimated to having caregivers available as early as you can. In the latter stages of the disease, she will not remember names or faces. If she's had time to bond with caregivers when it's still possible, it's less stressful for everyone.
When she needs around-the-clock care, switch from part-time care to 24-hour home care services. A specialist in 24-hour home care can help you make the arrangements.
If you or an aging loved one are considering 24/7 Care in Salisbury, NC, contact the caring professionals at TenderHearted Home Care today. Call us at (704) 612-4132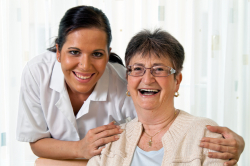 Latest posts by TenderHearted Home Care, LLC
(see all)