Would Your Family Benefit From Dementia Care Education and Other Home Health Care Services?
When you're a family caregiver, Alzheimer's care can be one of the biggest challenges possible. You're not used to the constant ups and downs your parent experiences. One day, your parent is happy and knows you. The next, you're a stranger.
That's part of the caregiving experience. At some stage, your mom or dad may need adult diapers for incontinence. Foods may become too hard to chew, so a soft food diet is essential. If you don't know where to start, home health care services cover many of the challenges you'll face.
Medication Administration
If your parent develops moments of intense anger and paranoia, it can be dangerous. You're dad outweighs you, and he's known to punch you if he loses control. The last time, you ended up with a broken nose.
Sometimes, injectable medications prove to be the most helpful in controlling anger, delusions, and paranoia. You won't be able to handle these injections on your own. A skilled nurse can, however.
Wellness Checks
Getting your mom or dad out of the house and into the car is enough of a challenge. Once you're at the doctor's office, getting your parent out of the car and into the doctor's office is impossible. You wish that doctors still made house calls.
A home health care nurse can stop by and take your parent's vitals. The information is relayed to the doctor, who will determine if your parent needs to be seen. With regular blood pressure, pulse, and blood tests completed at home, you avoid many of the frustrations that occur on appointment days.
Work With Nutritionists
Arrange to have nutritionists come to your mom or dad's home to teach you about your parent's nutritional needs. A balanced diet is essential to make sure blood sugar levels, iron levels, and other essential nutrients aren't overlooked.
It also helps to have an expert's opinion when it comes to finger foods. There may reach the point where finger foods are best, as they don't require a fork or spoon. Fine motor skills diminish in the latter stages of the disease, and it's often hard to understand how to make foods your parent can still eat independently.
Make arrangements for home health care when it's needed. Ideally, get your mom or dad working with home health care nurses and specialists as early as possible. This gives your parent the chance to get to know and bond with those making the home visits. A home health care specialist is happy to assist you in making the arrangements.
If you or an aging loved one are considering Home Health Care in Faith, NC, contact the caring professionals at TenderHearted Home Care today. Call us at (704) 612-4132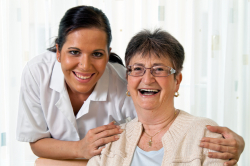 Latest posts by TenderHearted Home Care, LLC
(see all)