Companion Care at Home Senior Tips for Downsizing
When your senior lives independently and doesn't want to go to a nursing home, it's called aging in place. However, if your loved one lives in a big house with a big yard, it might be too much for them to take care of, even if they have a caregiver with them. This is when you know it's time for them to downsize their homes. You may not know how best to do that. So here are all the tips you and companion care at home can use to help your loved one downsize their homes.
Don't Toss Family Heirlooms
Although you should get rid of things, you should never get rid of family heirlooms. If your senior wants to get rid of them, ask other family members to take them and save them for future generations. You can downsize a seniors home without getting rid of anything that should be kept in the family. If you need help determining what those items are, this is a chance to connect with your senior loved one and work together to find things homes.
Create Small Deadlines
If your senior has a 3 -story home, even if you, your loved one, and companion care at home take on the entire property, it can be too much. Instead of taking on everything at once, set small goals. Do one room at a time. Get rid of the things that don't work or won't fit into the new space, you can sell them or take the items to a junkyard. Setting small goals will help a senior with the bigger picture.
Take Pictures
Downsizing seems so easy in theory, but there might be things with a lot of sentimentalities to your loved one. They may have a hard time downsizing because of this. However, a good way to meet in the middle is by taking pictures of those items and creating a photobook for them. It may help them cope with getting rid of something that takes up too much space.
Think About How They Feel
You may think something is total garbage, but your loved one may not feel that way. Understand and acknowledge their feelings during this process. They may not want to throw something away, but they may be willing to donate it. Take the time to go through each thing and be compassionate towards your loved one.
Think About a Daily Routine
If your senior likes to read on the rocking chair on their porch, you won't want to get rid of the rocking chair. So, as you go through things, ensure you understand their daily routine to help you understand what should be kept. Again, companion care at home may be the best person to ask about daily routines as they will have been with your loved one daily and know what a senior does and when they do it.
Understand The New Layout
You will always want to find out where a senior is moving first. For example, if they have three bedrooms now but are moving into a one-bedroom, you will have to find homes for all the other extra furniture. Analyze the new space and compare it to the old place to help a senior understand what they should be getting rid of.
If you or an aging loved one are considering Companion Care at Home in Thomasville, NC, contact the caring professionals at TenderHearted Home Care today. Call us at (704) 612-4132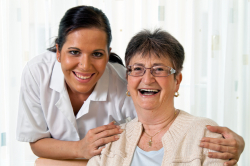 Latest posts by TenderHearted Home Care, LLC
(see all)